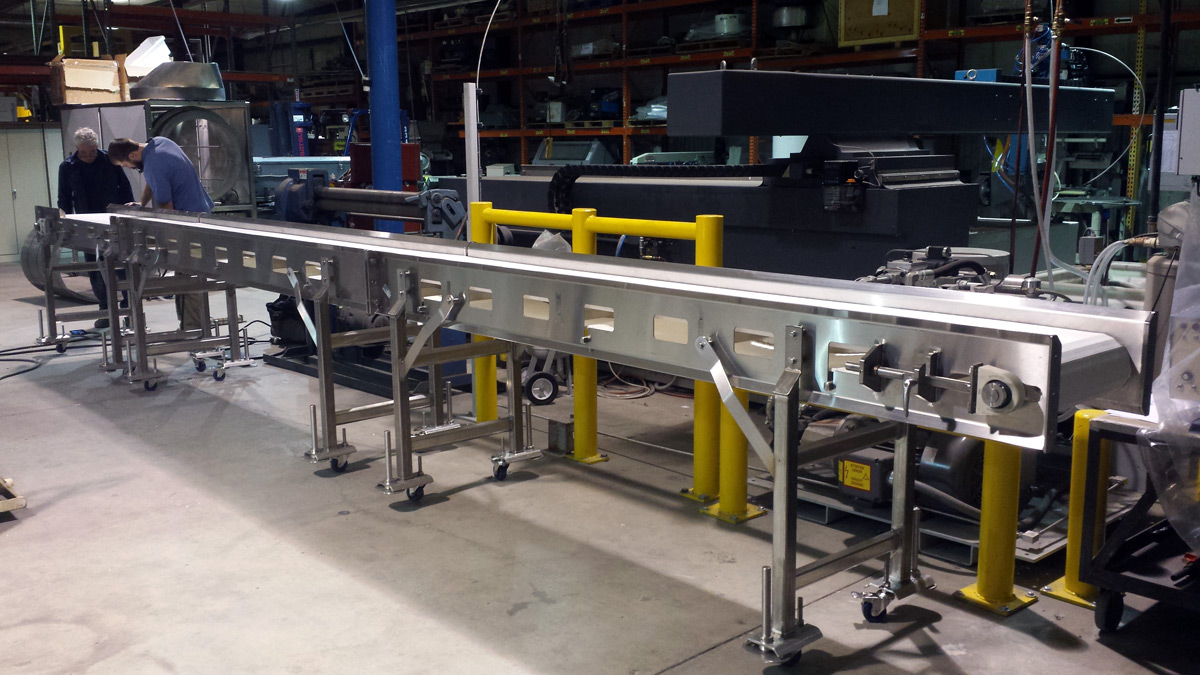 01 May

Conveying Equipment Buying Tips

With the dizzying array of options on the market, it's no easy task to research conveying equipment and figure out what's best for your business. The conveying equipment that's right for your business will vary based on your product, the type of packaging, desired production volumes & much more.

Given the complex nature of conveying equipment, it's critical that you do your homework before you make a final decision. It's also helpful to consult with experts who deal with these systems on a daily basis to help ensure that you buy the right conveyor system for your food, beverage, personal care product, or supplement products.
5 Tips To Help Choose The Right Conveyor Equipment
Denver-based Right Stuff Equipment offers conveyor equipment including level conveyors, incline conveyors, bucket elevators & more. We've been in this business so long, we've pretty much seen it all. We've seen how thoughtful decisions help businesses thrive. We've also seen how the wrong buying decision can negatively impact a business's ability to grow and expand.
With that in mind, we offer 5 quick tips to help make the right buying decision when it comes to buying conveyor equipment.
Tip 1: Define Your Product Specifications
Time is money! So to save both, we suggest that you make a detailed list of the lengths, widths, and heights of the products that will be carried along that conveyor you plan to buy. Do this BEFORE you contact potential suppliers.
Tip 2: Define The Product's Weight or Density
In order to calculate the load requirements for conveyor equipment that's ideal for your product and business, you have to know the weight and density of the product.
Tip 3: Define Your Desired Production Volume
When you determine how much product you want to produce, and how fast, it will help guide you to the right conveyor equipment that meets your needs. Production volume will affect what you choose for conveyor belt options, what gear ratio you'll need, and the horsepower that will be needed for the motor.
Tip 4: Define The Environment In Which The Conveyor Will Operate
There's a big difference between a conveyor designed for a dry environment vs. a wet environment, or a conveyor that can withstand freezing temperatures. When you buy the right conveyor system and options that are designed for your production environment, it ensures that your conveyor will have a good long life. Conversely, if you buy a conveyor not designed for a wet or cold environment, for example, you run the risk that the packaging conveyor system will wear out faster, and/or need more maintenance.
Tip 5: Assess The Power In Your Facility
There are few things worse than buying a brand new machine only to find that your facility doesn't offer the right electrical set-up to power it. Before you embark on your search for packaging conveyor systems, take a walk through your facility with a knowledgeable electrician and document all the types of power feeds that are there, plus WHERE they are located. Take that electrical power map with you when you consult with conveyor system suppliers.
Want more practical tips on buying the right packaging conveyor systems? Read Right Stuff Equipment's expert article: 10 Tips For Buying Packaging Conveyor Systems
When buying conveyor equipment, there are factors to consider based on a case-by-case basis. If you need some help researching and buying conveyor systems, call Right Stuff Equipment in Denver, Colorado USA at 303.327.4704, or Email Us.